Auburn ECSD improves school-to-home communications with new website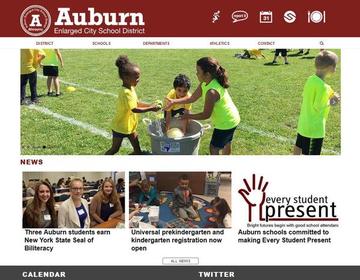 (July 9, 2018) - The Auburn Enlarged City School District is pleased to announce the launch of its new website, www.aecsd.education. Designed and developed in collaboration with the Central New York Regional Information Center (CNYRIC), the Auburn school district aims to provide its school community with up-to-date information, as well as showcase the district's vibrant students, academics, and athletic programs.

"We listened to feedback that we received from students, staff, parents, and community members over the years, and we were able to make significant improvements to the way we digitally communicate to our community," said Superintendent Jeff Pirozzolo. "Our new website is sure to shine a spotlight on our student success stories, athletic teams, academic consistency, and dedicated staff."

The new website features improved user navigation, better events calendars, easy-to-use staff directory, district news articles, consistent professional appearance throughout the site, and much more.

The district is confident that the website will be a welcomed improvement in its school-to-home communication efforts. The community is encouraged to visit the website frequently to view updated photos, news articles, announcements, and other important information.