Music Department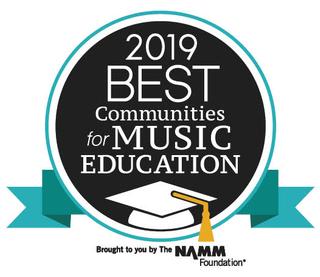 The Auburn Enlarged City School District has received the national designation as a "Best Community for Music Education 2019" from the
National Association of Music Merchants (NAMM) Foundation
.
This is the fourth consecutive year that the Auburn Music Department has received this recognition. There are 527 school districts that are among the Best Communities in the nation for music education. The award program recognizes outstanding efforts by teachers, administrators, parents, students, and community leaders who have made music education part of the curriculum. Designations are made to districts and schools that demonstrate an exceptionally high commitment and access to music education.
The Music Education faculty would all like to say THANK YOU! Lessons, concerts, field trips, All-County, musicals....it is a lot to ask of the students, families, and teachers, but in pursuing the highest levels of musical AND academic excellence, we all somehow make it work. Thank you again for your continued support!
-Adam Carkey
AJHS Music Teacher & Department Head
---
Music Education
Auburn enjoys an accomplished music education program recieving a multitude of national, state, and county accolades. Curricular course offerings includeGeneral Music, Band, Chorus, Orchestra, and Music Theory.
Auburn students also enjoy a wide variety of extracurricular performance opportunities including musical productions, String Quartet, Fiddle Group, Jazz Band, Vanguard, and a wide variety of select choral ensembles.